Need a Blog Make-Over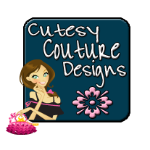 If you are looking for a blog make-over, you have to check out Kate at www.cutesycouturedesigns.com! She is awesome to work with and very professional. I had no clue what I wanted my blog to look like. I gave her a color palette to work with and with her creativeness she did the rest. She captured me and my style in the style of the blog. She works very hard and is very proficient in what she does. I was told it would take 2 to 3 days and it was just that. She let me she let me preview everything before it went live, so I could have my blog to my liking! I would definitely recommend Kate to anyone looking for a blog makeover!
This policy is valid from 11 August 2010
This blog is a personal blog written and edited by me. For questions about this blog, please contact Nicole@worldformoms.com.
This blog accepts forms of cash advertising, sponsorship, paid insertions or other forms of compensation.
The owner(s) of this blog is not compensated to provide opinion on products, services, websites and various other topics. The views and opinions expressed on this blog are purely the blog owners. If we claim or appear to be experts on a certain topic or product or service area, we will only endorse products or services that we believe, based on our expertise, are worthy of such endorsement. Any product claim, statistic, quote or other representation about a product or service should be verified with the manufacturer or provider.
This blog does not contain any content which might present a conflict of interest.
To get your own policy, go to http://www.disclosurepolicy.org