::CLOSED:: Chili's Triple Dipper Review and Giveaway!
THE WINNER IS: crazylicious85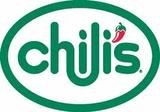 Have you ever heard of the saying that good things come in threes? Well when I heard that Chili's has a new appetizer promotion, that saying is oh so true! What better way to start off a meal then to choose any of your three favorites from Chili's appetizer menu.
• NEW! Loaded Potato Skins
• NEW! Honey-Chipotle Shrimp
• Hot Spinach & Artichoke Dip
When it comes to choosing just one appetizer its always so hard, so I'm glad that Chili's has started this new Triple Dipper Event! This makes the decision so much easier. For me my choice is going to be the Loaded Potato Skins, Honey-Chipotle Shrimp and the Wings over Buffalo! This trio is so filling that there is always enough to share, so I recommend to bring a friend or two along with you!
To jump start this new Triple Dipper there are several ways to WIN a chance to try this yourself! One good way is to check out

Shout Out To Eat Out, all you have to do is put yourself in a perfect trio for your chance to win a $20 gift card or a grand prize of $333. A winner will be chosen every day!

You can also stop by

2 Wired 2 Tired

for even more chances to win a $20 Chili's Gift Card!
Now a chance for you to win a $20 gift card here on Sweet Life By Nicole. It's real simple and anyone can enter!


Mandatory Entry:Click the link below: Please enter Sweet Life By Nicole in the field below!
1. Tell me your 3 favorite foods you would like to have all on 1 plate.
2. "Like" Chili's on Facebook
3. Follow @Chilis & @Shoutout2eatout on Twitter
5. Opt-In to Chili's email club here
http://bit.ly/m6HYef
(You'll receive a free appetizer certificate too!)
"At @Chilis Good Things Come In 3's! Check out @2Wired2Tired
http://bit.ly/linkyrave
for 200 chances to win in the #tripledipper linky rave!"
Make sure to leave a comment for each entry including an email address that you can be reached at in case you win!