My Girl's New Paradise
My daughters are growing and starting to show their own personalities and I wanted to do something for them that would last longer than the usual toy. Something that will help them come into their own and really fit their own personality. So I decided to decorate their rooms to fit their personalities and their likes.
From the start I knew this wasn't going to be an easy task. So I sat the girls down, had them pick several colors they liked, then one color that was their favorite. The favorite color is the color we choose to fit the décor around.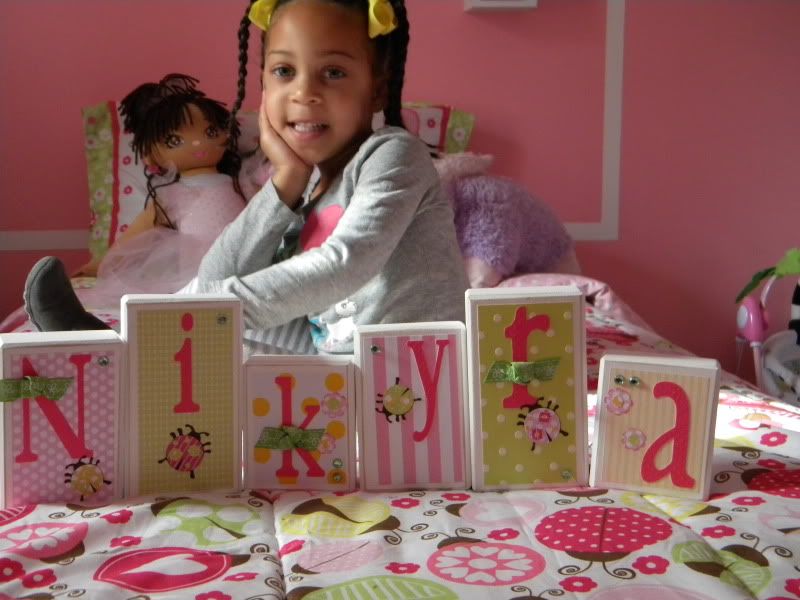 Nikyra being the girly girl she is pinked pink as her favorite color. And not just any pink, it had to be a bubble gum pink. Janae wanted a dark purple almost the color of a grape.
So my husband and I ventured out to Lows to find the right paint colors we chose Pink-Flutter for Nikyra, and Simply Purple for Janae. It took us a while, because we had to find a color that worked best with the lighting in the girl's room. Since we use energy efficient light bulbs they don't get as bright as regular ones, so we didn't want a color that was going to look yellow or dingy under the light. These colors actually looked the best under all types of lights.
After getting the paint, we painted one wall the color of their choice (pink, and purple) and the rest of the walls white. I only allowed one wall to be colored, because I didn't want it to make the room look smaller or too dark. To me having the white walls mixed it, brings in more light and makes the rooms look bigger.
As for the décor in Nikyra's room we painted a white square in the center of her pink wall. We did this because her bed is a platform bed, and doesn't have a head board. The white square with the décor in it acts as one. Being that I was making their rooms personally for them I wanted to get something that made it their own. So I decided to get
wall letters
that spelled out their names and fit their personalities.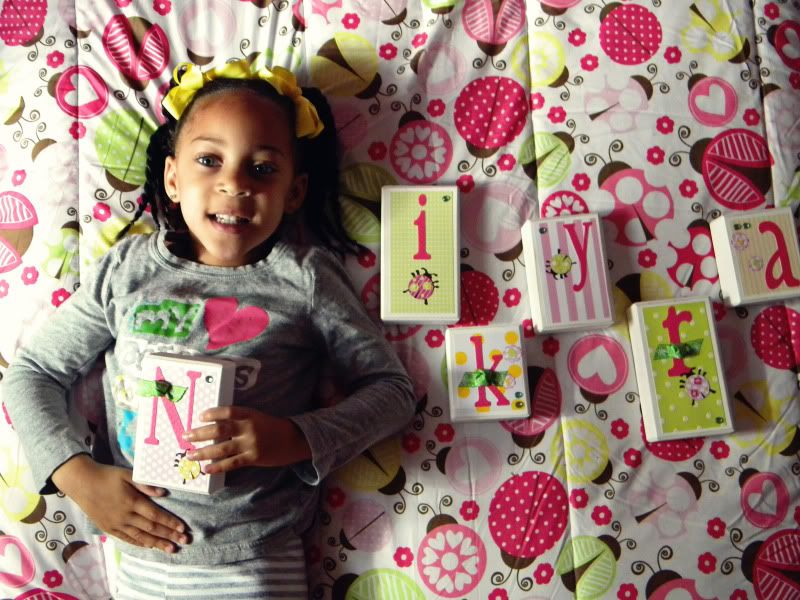 As I was looking through etsy.com I came across
Me and These Three's
page and fell in love with her
letter blocks
. So I just had to have them for Nikyra. These blocks are each hand made and very creative. She was able to take my visual image of what I thought fitted Nikyra's personality and she turned it into these. The quality of her work is remarkable and I can guarantee they would be one of a kind. These blocks have been a big hit with Nikyra and probably have been her favorite thing out of her room. Along with her letter blocks we decorated her wall with the white cube shelves and white flowers and mirror butterflies. We used a pink, green, and yellow
lady bug comforter set from target
.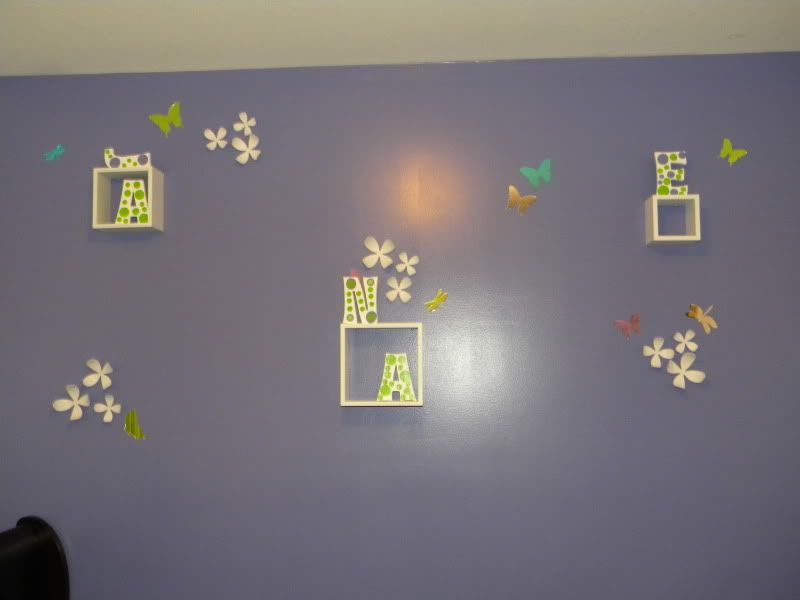 For Janea's room I decided to channel my inner crafter, and I can say I'm very proud how it turned out. I found basic wood letters are Walmart for under $2.00 and some simple craft paint and painted her letters. With Janae's room I also used the same white cubed shelves along with the white flowers. Instead of using the mirrored butterflies, I was able to find different color butterflies with dragon flies that matched the colors in her bed set.
All in all with the little changes we did to their rooms, we made a big impact on our girls. They are able to express their difference in their own creative way!